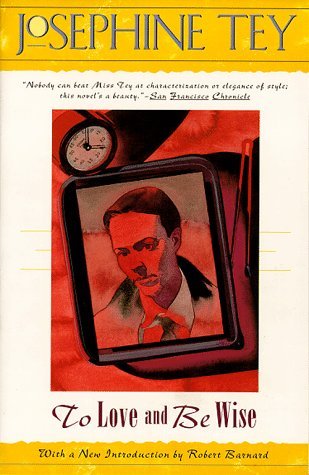 To Love and Be Wise / Josephine Tey
Touchstone, 1998, c195

0

.
223p.
I very much enjoyed this mystery novel that was much more about character than mystery.
It is one of Tey's Inspector Grant novels (the first I've read), and Alan Grant is a charming detective. He's solid, clever, interesting and interested in others, and he has a fine sense of how to go about his job.
As the book opens, he is on his way to pick up an actress friend, Marta Hallard, for a dinner date. The book's opening paragraph is genius:
Grant paused with his foot on the lowest step, and listened to the shrieking from the floor above. As well as the shrieks there was a dull continuous roar; an elemental sound, like a forest fire or a river in spate. As his reluctant legs bore him upwards he arrived at the inevitable deduction: the party was being a success.
While there, Grant meets Leslie Searle, an American photographer who ends up getting himself invited to the country house of Lavinia Fitch, the lady writer being feted at this party. No-one is quite sure why or how he is along for the ride, but as he gets to know the locals, some begin to dislike him greatly while others, like Liz Garrowby, Lavinia's niece, like him quite a lot. The village is full of artists, with resultant artistic grudges and quarrels, which makes Searle's success as a photographer another sticking point for many of them.
None of this would be any of Grant's concern, however, except for the eventual and utter disappearance of Leslie Searle. He vanishes one night, and Grant is left to determine if it was an accident, suicide, a practical joke, or something more nefarious.
The investigation moves slowly, and isn't really as important as the exposition of all these characters and their interactions. When Grant finally figures out the truth, in a very surprising conclusion, it is unexpected and yet makes sense. It is a wonderful journey for the reader.
Tey's writing is also a pleasure to read; she has a sense of the ridiculous and can't help being amusing in her storytelling. She also has a knack for capturing a character in one quick detail -- for example, while describing the countrified Aunt Lavinia celebrating at her publisher's party, Tey writes:
She had bought herself a fashionable hat for the occasion, but had done nothing to accommodate it; so that the hat perched on her bird's-nest of ginger hair as if it had dropped there from an upper window as she walked along the street. She was wearing her normal expression of pleased bewilderment and no make-up.
This is the essential Lavinia. But Tey is never cruel about her characters' eccentricities and habits. She seems to engage with them sympathetically even if they aren't doing things that are exactly kind or proper. I think that more Tey will be in my future, as I now want to read all of the Inspector Grant novels.
***********************************************
Further Reading:
Any of the rest of the Inspector Grant novels, obviously, or her standalone,
Brat Farrar,
would be great choices to follow this one up with.
For a modern mystery with an atmosphere of the Golden Age writers, which also features an interloper in a small village (this time a psychic), try
The Sibyl in her Grave
by the incomparable Sarah Caudwell.